Today I thought I would share my eyeshadow palette collection. It is humble, it isn't huge, and that's just fine with me. I've collected these palettes over the course of maybe 2-3 years, and there are some I like better than most, but I'll get into that, so let's dive in. The palettes pictured above in my collection are as follows:
Urban Decay's Naked 3
Smashbox Smokebox II
e.l.f. Little Black Beauty Book: warm edition
Lise Watier's féline palette
Sephora Baked Moonshadow Palette: in the tropics
Pürminerals 'Jupiter Ascending' palette
1. Urban Decay's NAKED 3
This is my
absolute favourite
palette out of, pretty much, any palette on Earth. Anything rose gold and warm toned is totally my jam, so when the Naked 3 was released, I had to buy it right away. I constantly use every single eyeshadow colour in the palette for different looks, but my favourites are: Blackheart (dark chocolately brown with specks of red/maroon, right-most shade), Factory (warm taupey brown shade, fourth from right), Trick (warm shimmery gold, middle shade), and Strange (matte creamy white, left-most shade).
The shadows in the palette are so extremely pigmented and go on like butter, they blend out beautifully and I'm sad to say that I've hit pan on at least 2 shadows in the palette. And by 'hit pan' I mean I've completely used up Blackheart (so sad that they don't sell this shade individually).
2. Smashbox Smokebox II palette
I bought this one when I worked as a cosmetician, we sold Smashbox at the boutique and I could not resist picking this one up. It was released in the fall, thus all of its dark shades, and the reason I couldn't resist buying it was for the matte, dark plum shade (pictured bottom middle). I have hazel eyes, and plum shades bring out every little bit of green in my irises, so I fell in love with this palette.
Unfortunately, I don't think you can get this palette anymore. It isn't available through Sephora, nor was I able to find it on the Smashbox website. You
can
, however, find it through ebay or amazon, though make sure you are buying from a trusted seller if you choose to go this route.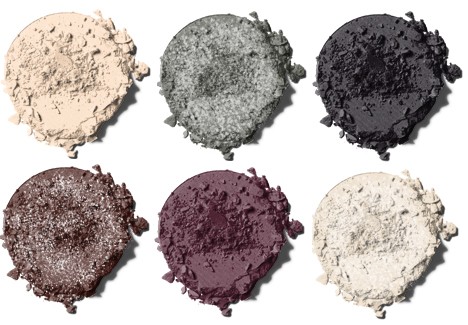 3. e.l.f. little black beauty book: warm edition
This is the least expensive palette in my collection, and still one of my favourites! e.l.f. always surprises me with the quality of their products given the price point for their collection. It features 48 warm-toned shadows and I haven't even gotten a chance to use all of them.
I bought this palette at Winners in Ottawa, it was (if I remember correctly) no more than $6.00, so I couldn't resist. This palette would be a fantastic purchase for someone just starting out with makeup. It has a wide variety of shades, tons of warm browns, taupes, nudes, and even quite a few eccentric shades. You can't go wrong with this, and it's a great 'first palette' for anyone.
4.

Lise Watier's féline palette
This is another palette that I picked up while working as a cosmetician, and there are a lot of great things I have to say about this product. I do admit I don't reach for it as often as my Naked 3, because I find them similar in terms of the types of shades they feature: both very warm browns and pinks, and the Naked 3 is simply what I'm more attuned to reaching for.
I actually bought this palette a few weeks after first seeing it. I would come to work, and nearly every shift I had, I would swatch these shades. They are the
most
creamy eyeshadows I have ever swatched, and they feel so smooth. They are pigmented and the colour payoff is amazing. This palette would be most suited for anyone with dark brown eyes, in my opinion, but would also make light blue eyes pop. The bottom right maroon-brown shade is my favourite of the quad.
5. Sephora Moonshadow Palette
I've talked about this palette before, and it's the most unique out of my collection simply because its shades are very 'out there' and very bold. It's the only baked eyeshadow palette that I own, and I got it for my birthday in 2014.
Its shades are very 'tropical', which is a good thing because it's called 'In the Tropics'. They're bold, bright, and named after tropical islands. You could create quite a few different types of looks with this palette, and my favourite shades are the trio of coppery ones at the top, middle, and the bottom left purple shades. What's great about baked shadows is you can use them as-is for a more toned-down version of the shade, or you can wet them for more colour-payoff and a much bolder outcome.
6.

Pürminerals 'Jupiter Ascending' palette
I, again, bought this palette at work, and my initial thought was, "what the hell is Jupiter Ascending?" It said 'coming soon' on the packaging and came in a gift-set box with a felt-tip liquid eyeliner and rosey lipgloss, and also featured a gorgeous warm pink-toned crimson shade, which is the shade that won me over for the palette.
I now realize that the palette was in correlation to the now-newly relased movie starring Mila Kunis and Channing Tatum (hubba), but back when I bought this palette I had absolutely no idea what Jupiter Ascending was.
Do we see a theme here? Warm tones and pink shades... hmm. Maybe I need to broaden my horizons just a tad, huh? I hope you enjoyed my eyeshadow palette collection! What's your favourite palette? Let me know!
Disclaimer: Header image by the wonderful Kerri Hess, edited by me, Individual palette images from their respective websites and/or google.ca.